We offer our services in the form of external support to the project coordinator, or by participation in the project, responsible for the project management workpackage.
Proposal
Support in all aspects of proposal writing, including work package development and budgeting.
Consortium development and negotiation with the EC
Finding the right project partners (in many cases through our network of contacts).
Help with partner validation.
Preparation of the consortium agreement.
Negotiation of the contract with the EC.
Project management and administration
Organisation of project meetings, workshops, seminars and conferences.
Support in the preparation of deliverables, and project reports.
Financial control, including collection of financial statements and audit certificates.
Monitoring of cost keeping and time keeping systems.
Regulation of payment modalities between the coordinator and the consortium.
Facilitating good communication among the members of the consortium.
Overall project monitoring.
Market studies within the workplan
Desk research.
Telephone interviews.
Surveys, market research.
Dissemination
Design, hosting and updating of the project website.
Design of logos.
Design of leaflets, posters and other dissemination materials.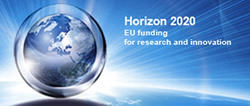 Horizon2020
Horizon 2020 is the biggest EU Research and Innovation programme ever with nearly €80 billion of funding available over 7 years (2014 to 2020) – in addition to the private investment that this money will attract. It promises more breakthroughs, discoveries and world-firsts by taking great ideas from the lab to the market.

The IPR-Helpdesk
The European IPR Helpdesk offers free of charge, first-line support on IP and IPR matters to beneficiaries of EU funded research projects and EU SMEs involved in transnational partnership agreements, especially within the Enterprise Europe Network (EEN).

The Fast Track to Innovation (FTI) pilot
The Fast Track to Innovation (FTI) pilot provides funding for bottom-up proposals for close-to-market innovation activities in any area of technology or application. This thematic openness – combined with the possibility for all kinds of innovation actors to work together and deliver innovation onto the market and/or into society – should nurture trans-disciplinary and cross-sectoral cooperation.

Berlin Partner
Business and technology support for companies, investors and scientific institutions in Berlin – this is the Berlin Partner für Wirtschaft und Technologie GmbH mission. With customized services and an excellent science and research network, our many experts provide an outstanding range of programs to help companies launch, innovate, expand and secure their economic future in Berlin.